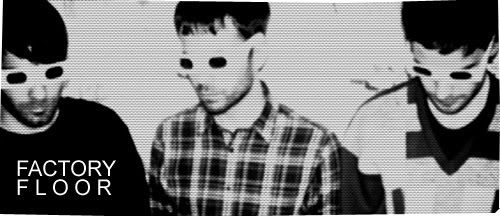 The band, Factory Floor is by far the best find I've come across this year. Especially owing to this particular song called 'Bipolar':
|mp3|
Factory Floor - Bipolar
(right-click save as)
Okay, so I might like it due to an absurd similarity to the epic artifacts of Joy Division, but I loooove the fact that they're absolutely nailing that Joy Division sound (in their own unique style of course) . There's nothing sweet or sugary about the music they play; combining eerie vocals that are hard to decipher with an interweaving of electronic beats and minimalist touches, the effects quietly evoke a striking intensity to the songs. These are pieces of music that are violent yet serene, ominous yet sleek. 'Bipolar' pretty much has everything a song needs: rumbling basslines, mechanical percussions, and Ian Curtis post-punk baritone delivery. Though it may grow monotonous, beginning with the same guitar groove that last pretty much throughout the entire course of the song, it still doesn't fail to deliver. What can I say, I'm an easy audience.