Every time I listen to a new Chad VanGaalen, the songs always sound different from the last. But that's the best part; music by this Calgary based singer/multi-instrumentalist, never fails to surprise you in all its delight and splendor. But each tune is still very much quintessential VanGaalen, including this latest offering called
Soft Airplane
, which is certainly no exception. High falsettos lightly hover and quiver atop thickly layered textures and sonics that are sure to leave a mesmerizing aftertaste. Lyrics overflow with musings on death and themes of macabre, and yet the tunes doesn't convey a horrific feel through images and scenes depicted by VanGaalen lyrics, especially in Willow Tree:
When I die/ I'll hang my head beside the willow tree/ When I'm dead/ Is when I'll be free
. Words feel secondary here, and yet it still plays a major role, still VanGaalen's best attribute rest in his aptitude to effortlessly shift between folk-balladry, eccentric electronic pieces, and straight-up indie-rock.
Soft Airplane
is a fine collection of eclectic confectionaries with rich, organic touches-- hard to believe it was only recorded in his bedroom.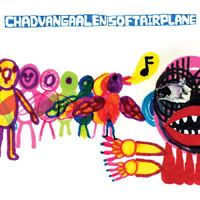 |mp3|
Chad VanGaalen - Bones of Man
|mp3|
Chad VanGaalen - Cries of the Dead
|mp3|
Chad VanGaalen - Molten Light