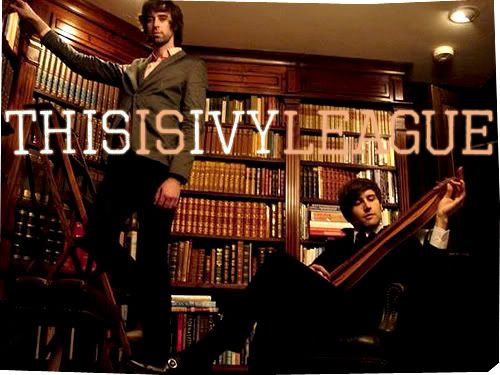 Although both members of This Is Ivy League are better known as the guitarist and bassist of alternative rock band,
Cobra Starship
, the folk pop group, was formed long before the two had joined the latter band. The duo just recently released their self-titled debut last April this year, boasting a collection of 11 gentle indie pop pieces reminiscent of the laid-back 50s music, recalling to mind the wistful creations of past indie-poppers, such as
Belle and Sebastian
, and
Camera Obscura
.
One of the standout tracks, 'London Bridges', come equipped with pretty harmonies, lightly rocking guitar chords, and a mellow, soothing instrumentation, perfectly fashioned to make you fall for it even at the first listen. The track in its entirety is a warm, pleasant affair, with the best part being the gorgeous, swirling riffs that emerges close to the finish. Other songs carry the same easygoing nature, with added touches of bossa nova, gentle acoustics, and catchy guitar hooks. The record as a whole isn't as strong collectively, but a debut record that easily confirms a spot for the band as one of the finest acts this year.
|mp3|
This Is Ivy League – London Bridges
|mp3|
This Is Ivy League – Viola
Listening to 'London Bridges' wouldn't be complete without watching the accompanying
video
that perfectly matches the mood and tone of the music. I like to search for songs by the band's other associated act,
Cobra Starship
, and compare the two while slowly feel my brain disintegrating by the downright difference of both band's music. It's a clash between two different genres, not to mention two different idealisms-- very odd.