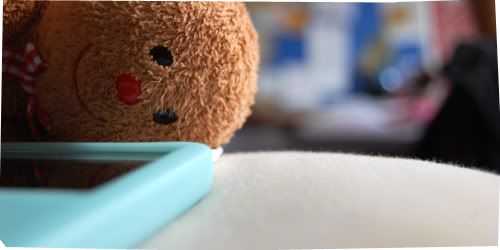 This could just as well be a mix, because of the (mostly) common downbeat, subdued theme that continues all through. But then I realized it isn't; these are just songs that were on heavy rotation during the previous couple of days.
|mp3|
Foals – Big Big Love (Fig. 2)
Everytime I listen to this, I imagine a series of warm toned and coloured images, seen through the lens of a
super 8
video camera. A stark contrast against the contemporary ambientsy tune, though it blends seamlessly together.
|mp3|
Foals – Red Sock Pugie
Heart swells, and vessels, and wasp nests. Also, a
video
that perfectly translates the song into visual form.
|mp3|
Good Shoes – We Are Not the Same
Another slice of the band's fun, amusing, quirky assortment.
|mp3|
Architecture In Helsinki – Do the Whirlwind
It was the
cool, arcade-game themed video
, really. And the rest was just history.
|mp3|
The Last Shadow Puppets – My Mistakes Were Made For You
One of the standout tracks from the album; it's rather romantic with a 60s treatment, but which doesn't incline towards sappy-ville.
|mp3|
The Radio Dept. – The Worst Taste In Music
I love this song because I couldn't relate it to anything apart from whatever moment I'm in at the time-- in spite of it heavily soaked in 80's nuances.
|mp3|
Rocky Votolato – White Daisy Passing
Forget what I said
here
, this is the song you should be listening to.
|mp3|
Midlake – Marion
Beautiful piano playing with tuneful vocal display.
|mp3|
No Age – You Is My Hot Rabbit
Was offered as a free download from their
MySpace
page, still is I guess. An instrumental piece that incorporates the least amount of noise, considering that they
are
a noise-rock duo. Still incredibly good though.
|mp3|
Midlake – Roscoe (acoustic)
Best acoustic version of 'Roscoe' ever. Albeit it's also the only acoustic version I've heard. Ever.