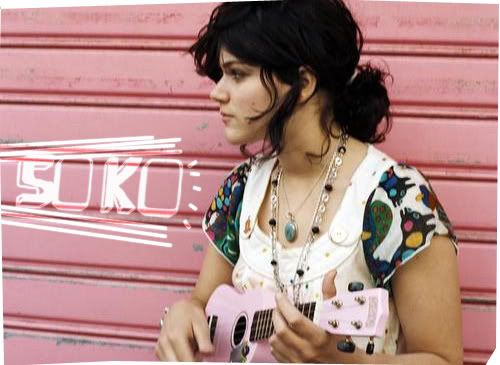 Take a listen to this. The singer's called SoKo, real name being Stephanie Sokolinski, a French actress who's recently ventured into the music scene.


|mp3|
SoKo – I'll Kill Her
'I'll Kill Her' is the song that first brought her to fame; initially uploaded onto her MySpace for close friends, when one thing soon led to another, and she's now bigger in Denmark than she could ever imagine. She sings the song in a cutesy French accent; words that are incredibly witty and spontaneous, it's charming and laughable all at once. An angry girl threatening on killing someone has never sounded any less intimidating than this, I promise. The lyrics are just remarkable fun to listen to, ones which won't tire your listen no matter how many times you play it. Coupled with catchy melodies, this is one tune and singer that deserves your utmost attention.
Her voice has a raspy edge to it and is girlishly high-pitch, like Betty Boop out on the tiles after smoking way too many fags. That voice and her delivery – sweetly-spoken smoky phrases of verse – coupled with her biting lyrics is what's made her such a phenomenon. No one expects the doe-eyed chanteuse, singing about losing her man to another woman, to cap the thought off with a chorus of blistering revenge. Quite simply, "I'll kill her, I'll kill her," trips off her tongue, vitriol dusted with sugar. The music is disconcerting in comparison to such lyrics. She strums out acoustic lullabies lightly on guitar. The stripped-down accompaniment is highlighted with soft chimes, a tambourine and the occasional floaty harmony.
She currently only owns one release, a 5 song EP called
Not Sokute
which is only available digitally.