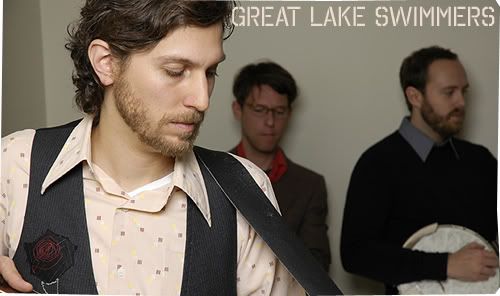 In their third album,
Ongiara
, Canada's ambient folk outfit, Great Lake Swimmers crafts out the kind of music and songs that's set to soothe you and evoke quiet, pristine landscapes of Canada's very own majestic nature and scenery-- something like these:
|mp3|
Great Lake Swimmers – Your Rocky Spine
|mp3|
Great Lake Swimmers – There's a Light
The songs can be rather haunting, but beautiful and engaging all the same; employing weary sounds of the
old banjos and dusty acoustic guitars
, with vocals of singer/songwriter Tony Dekker that's been aptly described as a concoction of
yearning fragility and breathless wonder
, hovering above it all.
Dekker uses this knowledge to paint haunting vignettes that linger long on your brain. Warm, lo-fi, and magical describes this listening session. Listen closely and you hear the hurt. Listen a little longer to decipher the beautiful despair. The sparse, acoustically inclined recordings allow the sound of each instrument to be heard behind Dekker's delicate delivery
Beautiful stuff.