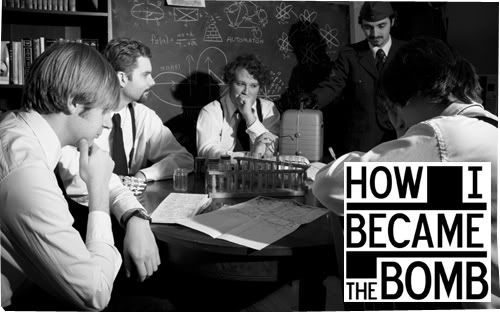 We are big, strong men. We possess ring awareness. We have veteran presence. We have tremendous hand speed. We are long. We have wingspan. We have an EP. As we become more myspace savvy, we will change this here biography. Then we will regale you with our rapist wits.
Long? Wingspan? Rapist wits? These guys scare me. The rather short, peculiar description of the band was directly copy pasted from their MySpace, which is among some of the highly interesting things you'll discover on their page, another one being the band citing their one and only influence as, wait for it - Clay Aiken. So, the question now is, should we be really scared, or should we be, you know, really
really
scared?
Despite of all that, never has a band's idiosyncrasies ever seem so appealing. The Tennessee band may not have the name to fulfill and may lead to the wrong impression, but this eccentric bunch come prepared and equipped with some of the most remarkable, rollicking fun tunes-- oh wow, are they good. Combining simple pop structures with incredibly catchy, frantic melodies, How I Became the Bomb managed to create fun, enjoyable pieces, meant to get people up on their feet and put them in a bright, buoyant atmosphere. If you're not saving this, then I can't begin to even describe what you're missing out on.
|mp3|
How I Became the Bomb – Killing Machine