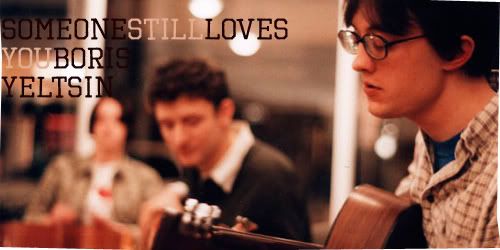 I thought there would be a lot of great things to point out about Someone Still Loves You Boris Yeltsin's newest album, but upon finishing listening to the record, there were only a few, and even those weren't even memorable enough.
The songs in
Pershing
came off as if they weren't meant to win you over or grab your attention; all through the tracks, nothing extra special comes leaping out at you to give you a reason enough to firmly implant that experience of listening to that one song in your head-- which makes this second effort by the band, merely a forgettable one. But having said that, although the album won't be remembered in a good two years time, the songs weren't in any way disastrous or approaching disastrous-dom in the least bit, but due to high expectations accumulated from their previous notable debut,
Broom
, it was somewhat of a letdown that this record didn't quite live up to their first.
If there was something noteworthy to note about this threesome's sometimes foursome, musical creation, it was their incredibly infectious guitar hooks; those jangley guitars that I once craved for in 'Oregon Girl' was once again resurrected if not lightly littered throughout the record. Stand out track, 'Boring Fountain' opened up to a horn section, before giving way to dazzling, twangy, jangly, bubble-gummy guitar, which a band like the Strokes could've came up with if they weren't so …… pretentious, there I said it. While 'The Beach Song' contained catchy riffs and bass lines that may be traced back to the craftsmanship of Albert Hammond Jr. There's a great display of vocal harmonization here, very nice and mellifluously done, but can which sometimes appear too honeyed and too sweet-- sickly sweet. When all's said and done, SSLYBY did manage to exhibit some pretty charming pop fixes for their avid listeners, albeit it being the kind that would only leave us with plain disinterest.
|mp3|
Someone Still Loves You Boris Yeltsin – Boring Fountain
|mp3|
Someone Still Loves You Boris Yeltsin – The Beach Song
|mp3|
Someone Still Loves You Boris Yeltsin – Think I Wanna Die
Watch their video for the song 'Think I Wanna Die' which features the girls from Eisley here»