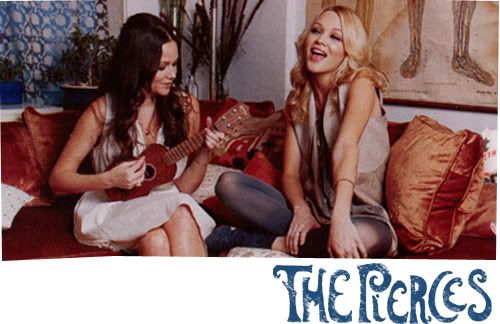 I've only known the Pierces through one source and one source only that is through one fifth of the Strokes or better known as Strokes guitarist, Albert Hammond Jr. It's hard to completely change my perception from ones like: one half of the Pierces is a fiancé to Hammond first, and a folk-pop, alt-country duo second. It's that same effect that I get whenever I see a picture, say
like this one
, the first words that come through my mind are, "Poor, Fab…". I know…… I seriously and desperately need to get a move on, because it's really none of my business to give a shit.
The Pierces are a band made up of two sisters, that's based in New York by way of Nashville, Alabama. Their third studio album,
Thirteen Tales of Love & Revenge
was released some time last year, and since then, they've been touring supporting the likes of the aforementioned fiancée while also landing a spot on popular drama teen-flick, 'Gossip Girls' which have gained them a slew of new fans, etc, etc… I know, I might seem mildly disinterested, and there's no better explanation to that, than to say, "You're right, I am". But thank to the heavens, I can at least draw your attention to one of the Pierces tracks from their latest album called 'Boring'.
"Boring" conjures images of other, more flashbulb-famous sisters with heaps of faux disaffection, dismissing the indulgences of sex, drugs, and, in the song's wittiest bit, fashion: "Galliano, Donatella, Dolce & Gabbana: boring." The repeated punchline is never delivered crassly or with anything other than what seems like genuine disinterest, which might risk it being interpreted as genuine but, fittingly, they don't seem to care.
'Boring' is a nice tune to get into and just follow along with the lyrics, no matter how facetious or racy it may be-- for probably the first few 20 times. After the 20th listen - or less, depending - I find that I can't quite keep up with them; the seductive styling and alluring horn section splashed throughout the tune does get well, get this, 'boring' for quite a while. It's tiring to listen to a song and having to pretend that you're something else, when truth be told, I prefer listening to something that instantly gratifies and makes me feel at home, the kind that doesn't tire your listen even after the 20th time-- you know what I mean?
|mp3|
The Pierces - Boring
Oh and by the way, to any of you who still, surprisingly is unaware of this; Albert's fiancé, Catherine Pierce, is the buxom blonde one, which, if I'm not mistaken, he has been pursuing for a year prior to the engagement. Also, I accidently noticed very recently,
from Wikipedia
, the somewhat unreliable source, the sentence stating, "Albert
was once
engaged to Catherine Pierce"…I'll leave it at that for us all to ponder on for the day.