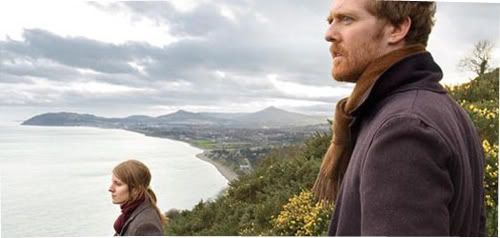 I still find it surprising to this day; on the fact that, that 'little movie' called
'Once'
had recently won an Oscar for best original soundtrack. Not that it's not a great song, in fact I think it's a brilliant tune; I just never thought that it was 'Oscar great'.
The film was merely a simple and a really sweet one plus it was filled with heart-warming songs. It only had modest expectations; I assume an Oscar would've never crossed their mind; that being said, I couldn't have been happier to see them win, shocked but happy, because nobody deserves it more. But, watching that portion of the Oscars really had me thinking on
how out of place the two had seemed
, I simply can't deny it-- but in an adorable way of course. Naturally the best part - although I hadn't really watched the whole show, but still the best part anyway - is
during the speech by Marketa Irglova
-- those were some really, really inspiring words.
To those who still haven't gotten a chance to watch it, please do, I highly recommend. This is the winning track that got them the Oscar.
|mp3|
Glen Hansard & Marketa Irglova - Falling Slowly
And a few other noteworthy tunes from the film.
|mp3|
Glen Hansard - Say it to Me Now
|mp3|
Marketa Irglova - If You Want Me
|mp3|
Glen Hansard - Fallen From the Sky