A lot of the mp3s have pretty much been taken down, I just found out, due to an account suspension. That's pretty harsh, that is. So no matter how many times you click away, it just won't work. However, I will only re-up any of the mp3s per request. So don't hesitate to drop me a message, requesting for that mp3, because I'd be more than wanting to help. And don't right-click at the newer links either, because that won't work any longer. Left-click is the way to go now.
A while back, I mentioned about the French indie/pop/folk duo, Cocoon and how great they are, etc, etc. Here they are again, performing their rendition of Outkast's 'Hey Ya', which I'm sure everyone, and I really mean everyone is mightily familiar with. I remembered Outkast's 'Hey Ya' as that hit chart-topper that everyone loved, everyone that is, except for me-- because I don't get it. Most of all, I don't get why it's always number one in charts all over. The tune is still loved by all whom surrounds me, because I remembered recently someone used it as their ringtone (oh, the agony).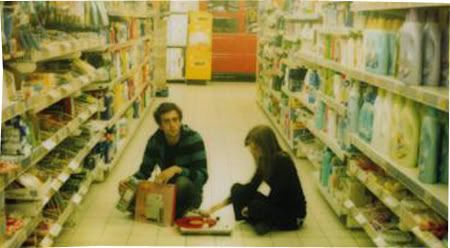 On the other side, I have to say, that I'm completely besotted by this duo's lovely version of the song. So much so, that it had me singing along. It's a slower, softer, folky version of 'Hey Ya'-- and a nicer one too. Makes sense now, why everyone seemed to be obsessed about the tune. Good job, guys.
|mp3|
Cocoon - Hey Ya (Outkast cover)