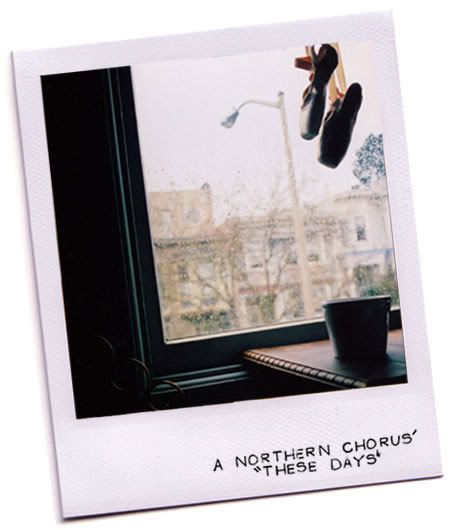 I've been feeling a bit down lately, so I've had this song on repeat for the last few days. In fact, it's always this tune, first and foremost that I turn to-- especially whenever I'm experiencing a pang of sadness. And the thing about depression is I don't mind it that much, because I've found that it can be a beautiful and inspirational thing (cue audience rolling eyes)-- well, at least that's how the sentiment is projected throughout this particular song by
Northern Chorus
called 'These Days'.
|mp3|
Northern Chorus - These Days
Interesting though, that this is the only track I know by Northern Chorus, which indicates that I should delve even more into what this band has to offer in their form of scrumptious tunes. I love how the tune settles in and makes me feel at home, and that it feels slightly nostalgic, probably due to its sounds that seems like it dates back from the 90s. And then I realize why I do love this song and it's for the same reason why people read books and watch films-- which brings to mind a quote by the Singaporean writer
Hwee Hwee Tan
, in her book
Mammon Inc.
:
The best books are those that tell what you already know - I read because when someone echoes my soul, I know that my soul is not mine alone.
A Northern Chorus is a Canadian band from Hamilton, Ontario and that's mostly known for their mellow tunes. 'These Days' is that perfect song to listen to when you feel like hitting the stop button to everything and just keep that moment at a complete standstill. The pensive strings that opens up as well as the stark, hollow echoes of the instruments, creates a gorgeous track, which I've yet to grow weary of.