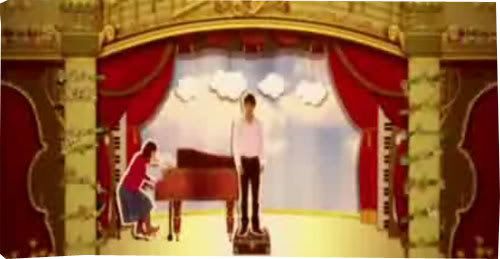 Well, here's something I'd never thought I'd write about. I don't know how many of you have heard of this;
Nodame Cantabile
is a Japanese manga comic, that's turned into a 'live action drama' series. The story revolves around the life of a prodigy piano player, named 'Nodame' who learns to play the piano excellently only by ear, while refusing to observe score sheets which results in a piano-playing that's sloppy, inaccurate, and full of her own improvisations.
Now, I'm not going to deny what you deserve to know; the story line is mind-numbingly simple, and the plots are cheesy as hell (the flash backs, the slow motion effects, need I say more?). However, trust me when I say, this show will for certain make you fall, head first, for classical music. The way musical compositions by renowned classical composers, are portrayed throughout the story will make you grow more appreciative of it by each episode. Upon completion of the whole episodes that I had retrieved from a friend, I immediately immersed myself in some classical collections of my own that I had kept stowed away and which was slowly collecting dust-- but was quick enough to pull myself out, before I get too detached from the real world. Classical music can affect people in such a way you know.
But, before, you go, "Oh, thanks a lot for recommending us such a terrible thing to watch", because yes, I know the characters are insanely comical, crazy, and extremely quirky, but do keep in mind that the story is literally an adaptation from a comic book. I know, I was annoyed at first, but after discovering the story behind the story, was when it started to make sense. Nonetheless, the tongue-in-cheek comedy can make you laugh out loud, plus it's a reasonably enjoyable drama to watch. Watch the series by streaming it
here
.
Here's one of my most adored classical piano piece to start things off and for you to kick start your very own classical music binge.
|mp3|
Claude Debussy - Claire De Lune
And another tune that reaches out to orchestra grandiosity, but would sound indescribably epic when imagined being backed up by a full orchestra.
|mp3|
Arcade Fire - Wake Up