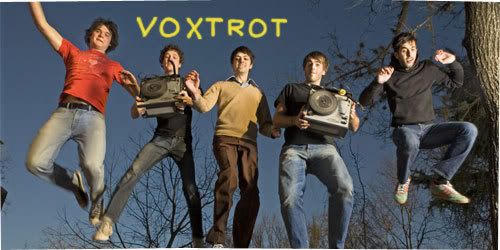 At this point, there's not much that I could say about the Austin band, Voxtrot, apart from that they're seemingly, getting by okay and unperturbed by how most critics are receiving their 2007 self titled debut record; claiming that the band were always good, but never good enough. 'Kid Gloves' was that song that I almost thought of eradicating from my collection straight away. Well, not really 'thought of'-- it's more, 'almost wanted' to anyway. But dear readers do not get me wrong, it wasn't because the track was revoltingly bad; there were certain moments of blandness, but otherwise, it was exceptionally good. But I kept thinking, was it good enough? Was it deserving of a space in the very small, very limited of hard disk space that I was already left with?
Towards the end, I realized that it took that extra millisecond for me to change my mind and I'm glad to say that I did, because ever since then I've grown to love the tune and consequently the band even more. 'Kid Gloves' is fast-paced, power pop with compact sounding instruments. The song lightly magnifies a touch of quirkiness that I'll always feel like gravitating towards, plus there's un-refrained, restless, and fidgety blunter that pours throughout:
Cheer me up, cheer me up/ I'm a miserable fuck
. For me, the highlight of the tune appears at a latter part of the song; where bracing, introspective guitar riffs emerges and that instantly draws you to the song's core. You should listen.
|mp3|
Voxtrot - Kid Gloves