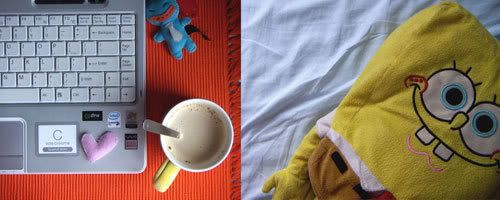 My mornings would usually feel like this:
|mp3|
Au Revoir Simone - Back In Time
There's a sense of dread in me-- every single time I wake up in the morning, to start off the day with the first lecture. Then I would go to this
site
, to feast my eyes upon the wonderful niceties that's captured by these two people on their mornings, and listen to a little bit of music, and then everything seems to appear a lot more okay than before-- which then I would feel ready to go to class.
Notice the upbeat tones of the picture, that goes in contrast to the melancholic mood in the song-- it's a misconception, but I guess that's just life.
SpongeBob, courtesy of Amy.