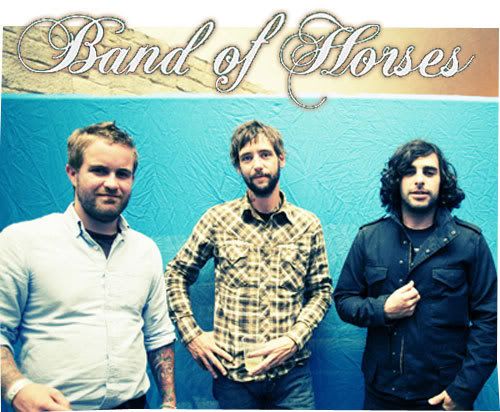 I love the amalgamation between the calming, soothing effect that Band of Horses projects in their music with lead singer Ben Bridwell's soaring vocals. The result reminds me of music by the Shins fused with a slight folky appearance. There are moments when you feel like falling back into music that's just simply nice to listen to-- and this particular song offers you just that.
'Detlef Schrempf' opens up to a gorgeous swirling, swaying refrain which is soon anchored by Bridwell's reverb-heavy vocals that's evenly distributed and casually meanders throughout. The music that Band of Horses casts down conveys the true facade of the band itself; they can be
raggedly epic and delicately pensive
(MySpace) at times in the portrayal of their song-writing. Both elements are audible in this tune as well as the woodsy, and dreamy quality that are often associated with the band's music.
Band of Horse was initially formed in Seattle, and has since been relocated to South Carolina. They've just released their second album
Cease to Begin
, on October last year, which is receiving glowing recognitions thus cleanly securing itself a place as one of the best albums of 2007.

|mp3|
Band of Horses - Detlef Schrempf