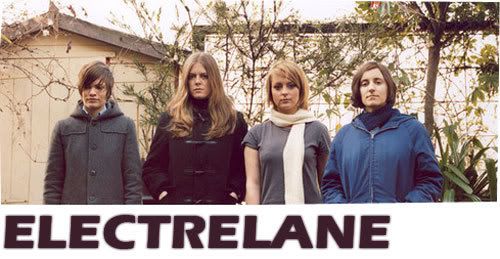 It's hard for me to imagine living through life without thoroughly listening to the music of Electrelane. The music sounds compelling yet muted, while able to incite ideas and inspirations along the way-- it's the kind that's perfect for an escape; transporting you to places without having to shift an inch.
This Brighton, England based band is essentially (or probably) one of the greatest bands I've discovered last year. Their stunningly beautiful debut,
Rock It to the Moon
largely bears instrumental tracks that are heavily drenched with the brooding tones of the farfisa organ, which generally mimics the late 70s era. If I ever do come across the chance of making my very own film, this particular record, as well as their latest,
No Shouts, No Calls
would be the nucleus of where my story would be built around. It's odd to come across a film, that's first and foremost inspired by songs, or rather a whole record-- but listening to Electrelane's music, makes it easy to conjure up images and scenes at the drop of a hat. Only problem is, you'll now have to figure the ending to your story, as well as the starting, and not to mention all the other little gaps to fill in.
It's difficult to precisely place what genre Electrelane primarily offers in their music assortment; its one part electronic rock, one part pop, possibly twee pop, and one part pure indie rock. There's too much of the term 'rock' in that sentence and at particular moments, the band can seem too refined for its own brand of music, although the music remains sonically stylish and for that reason, it frequently outshines the band itself. It's safer for a band to be outshone by its own music, because they are no less, trying to reach out their craft and composition to as many crowds as possible, as oppose to selling themselves, no?
No Shouts, No Calls
, is evidently a masterpiece, regardless of what the music reviews have to say about them-- it's staying there on the top of my list, and no words can make it budge for even an inch. Lead singer, Verity Susman vocals sounds restrained, sometimes inaudible throughout the whole record. Although when blended with the unique, upbeat styles of Electrelane's diversity, and bouncy, crisp, recurring guitar lines in 'To the East', it manages to produce a winning combination. 'After the Call' starts off at a quieter, slower pace with the sounds of wounded, hushed strings which then promptly shifts, rapidly cranking out thick, vigorous riffs, whilst 'In Berlin', referring to where the record was written, is a beautifully haunting mélange, with words that remains true to the ethereal outré in its feel:
If we freeze / I want to freeze next to you
.
I love this band and their music if you still want me to say it word for word-- they were above all, the major reason why
(my)
2007 was great enough to be reflected upon.
|mp3|
Electrelane - To the East
|mp3|
Electrelane - After the Call
|mp3|
Electrelane - In Berlin
**The band is unfortunately, currently on an indefinite hiatus. I dunno, I just hate the word, 'indefinite', what more the word 'hiatus'.
Watch Electrelane's video for 'To the East' here »