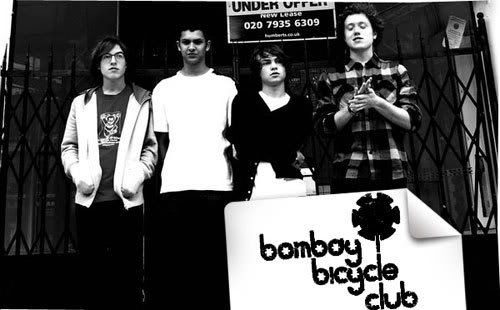 Meet my latest obsession, which comes in the form of 16-17 (17-18?) year old boys, (guys? Men? Man-boys?), all the way from North London that goes by the name, Bombay Bicycle Club. When you're searching for Bombay Bicycle Club, no doubt Google will start thinking that you're referring to a restaurant that goes by the same name (how delightful). Therefore, I think I speak for all of us when I say, let's make them number one in that Google search list.
First listen to the track 'Open House', you'd get the impression-- no, okay,
I
got the impression that these guys were no where near 16 or 17 (by that, I mean older), and the name 'Bombay Bicycle Club' seemed to make a lot of sense. So, I found out that they weren't old-- old-er, and the reason they chose the name BBC, wasn't because they've emigrated to Bombay once, lived there for a solid 6 months, drew inspirations, decided they love the place and the people, and upon returning back to good 'ol North London, decided to form a band and call it Bombay Bicycle Club. Nope, it wasn't because of that, so why BBC? Their answer was: Why Not?
The band's music roughly revolves around rigid though rhythmic guitar works, coalesced with lead, Jack Steadman's shivery why-did-you-leave-him-in-the-cold-for-so-long vocals. I don't get though why people keep associating the band with the Strokes, or Steadman with Casablancas. If there was any band to hold contrast upon, its Tokyo Police Club's muffled vocals and Good Shoe's nonchalant pop sensibilities. The band has fully won me over with their breed of laid-back, well crafted tunes and sharp riffs. And 'Open House' really does sound like a nice, warm sunny day spent riding a bicycle in a place called guess what, Bombay. 'Sixteen' is another gem; exuding warmth and ease through interweaved guitar parts that are pleasantly relieving.
|mp3|
Bombay Bicycle Club - Open House
|mp3|
Bombay Bicycle Club - Sixteen