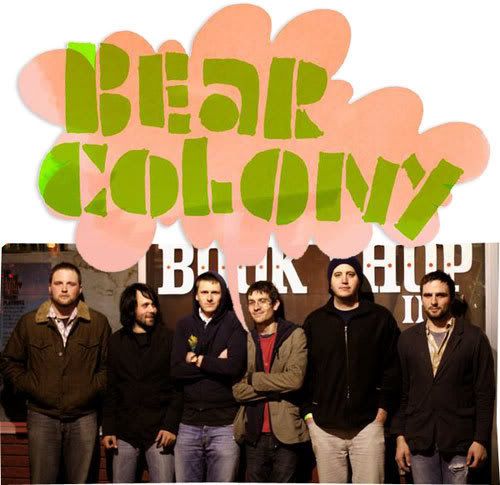 This semester, will no doubt be one of the busiest semesters ever. Not that the previous semesters have been any less busy, but I have this heavy feeling in my bones, that by the end of this semester, the massive work overload will leave me in a bundle of lethargy and exhaustion; to the point that I'll possibly, won't be able to remember my name anymore. I can picture it all; the lab projects, the presentations, the assignments-- it all makes me shudder with fear. However, expect no less of this blog, because I intend to keep it going. This is the only thing at least - apart from all the dull, technical shits I'm surrounded by - that make everything a lot more worthwhile.
Bear Colony proves that inspiration can be drawn from almost anywhere; this nine-member indie outfit first started out when primary songwriter Vince Griffin was misdiagnosed with Crohns Disease, leaving him bedridden for several months while living in a fear of uncertainty, which led him to write songs as an outlet to his frustrations. He soon began sharing and exchanging his compositions via the internet with musician friends which would consequently begin the formation of a true band, by the name of Bear Colony. The underlying theme of coping and healing is palpable and frequent all through their debut,
We Came Here to Die
, take this track for example where the theme is clearly littered in the title, 'Hospital Rooms Aren't for Lovers'; the music is strangely upbeat for lyrical contents that refers to experiences of fear and frustrations. There's certainly a touch of the bright electronic-tinged sweetness that
Spin
mentioned that's easy to detect through out the tune-- accompanied also by definite acoustic strums, and mellow beats of the drum machine that spins out a pleasing, recurring intro.
|mp3|
Bear Colony – Hospital Rooms Aren't for Lovers