I've been listening to the
new LP
over and over. And over and over. Over and over…, oh well screw it, you get the picture. Finally, songs are stuck in my head and I'm happy. I know that may come off as a little insane, but let me be – I'm in that kind of mood right now. But did I listen to their album because I was miserable, or was I miserable because I listened to their album? Anyway...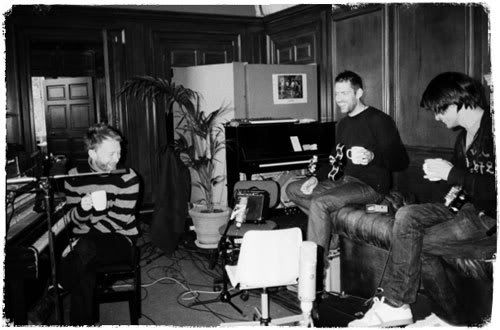 We love us some Radiohead and we love us some Radiohead covers even more. Since the excessive intake of
In Rainbows
, I can't seem to shake off their music, so I'm glad to have discovered some really superb covers to some of their tunes. But first I have to say that I've never listened to 'Kid A'. So there, I've said it, so please do not use that against me – I forbid you to. Therefore, I made it a point to listen to the original version first before I gave
John Mayer's
rendition a try. This is so that I wouldn't love the song the other way around like most mistakes I've committed in the past. The song 'Kid A' just simply blew me away; it was creepy but it was creepily good. The music echoes with muted tones and an isolated feeling that's washed over with a hollow-sounding vibe; all together forming music that just defines exquisiteness. I couldn't have fallen more in love with the song, but after listening to John Mayer's version, I realized that I could - and I did. This is just too good.
|mp3|
Radiohead – Kid A
|mp3|
John Mayer – Kid A
Another similarly good cover that should also be pointed out is
SIA's
cover of the track 'Paranoid Android'. What can I say, good song choice, good execution, a bit draggy but overall it made me want to listen to the original and change my whole perception towards it and think, "Eh? this song is actually really good"
|mp3|
SIA – Paranoid Android