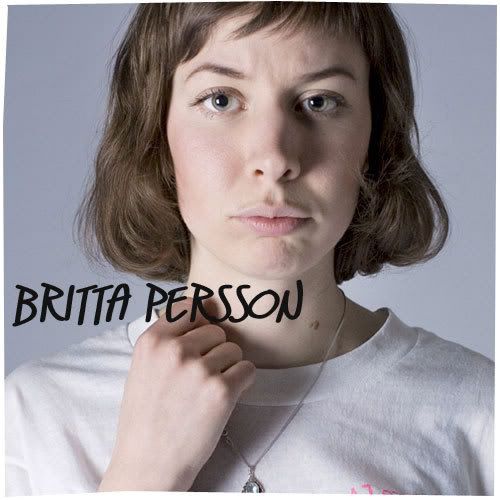 Sometimes when you come across a writing or a description so accurate, it almost feels impossible to come up with your own idea and explanation regarding a certain topic. I find that this
excellent review
of Britta Persson's song, 'Winter Tour' in Stylus Magazine to be precisely close to how I feel about it.
'Winter Tour', the first song on Britta Persson's gorgeous debut album, drifts in on a couple of strummed acoustic guitar chords—spare, wintry, inexpert. After a second or two, Persson's breathy voice floats in, following a cheerful, offhand melody that sounds like a girl singing to herself as she skips on the sidewalk: "The music we were listening to, it is still my favorite music," she confides before launching into a snaky, meandering "ah-ah-ah" melody, backed by a one-hand piano line that winds to the top of the scale almost like an afterthought. Thirty seconds in, Persson has stepped completely into focus and left an indelible impression. Then, just as quickly as she appeared, Persson skips past us, the song breezes out at three minutes, and, transfixed, we lean forward to hit "repeat."

|mp3|
Britta Persson – Winter Tour
I don't know how anyone can pass that review and not want to discover more about the song by hitting right-click and save as. Swedish singer/songwriter, Britta Persson may be one of the many musicians to add to your already gigantic list of beyond talented female solo singer/songwriters that readily bears names such as
Regina Spektor
,
Feist
, and etc. If I could describe 'Winter Tour' in just two words or less, it'd be 'serenely beautiful'. I know it's an expression that's been recycled too many a times, but this one carries it well, I guarantee you.