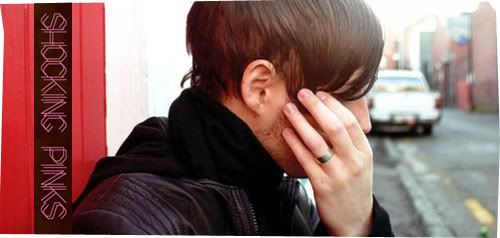 Via
BBC Collective
:
There's no single mood or style that defines Shocking Pinks' debut album. Compiled from two EPs which Nick Harte (aka Shocking Pinks) released in his home of New Zealand, the album segues and swoons between hazy mists of blissful noise-pop, beatific and hungover laments for lost love, and barrages of heavily percussive groove. It's a bewildering jumble on first gaze, but Harte's little fingerprint-smudged slivers, so lovingly composed, are precious things, and you'll fast find yourself addicted to his sweet, glum love stories.
Truth is I revel in music such as this, partly because it gives me an enormous sense of reassurance and partly because… it's just so rewarding. Shocking Pinks is the brainchild of New Zealander, Nick Harte who's also known as the former drummer of another band from the kiwi-pop spectrum,
the Brunettes
. In his 2007 self-titled record, Harte openly wears his inspirations on his sleeve; ranging from the lo-fi popsters Belle and Sebastian, the disheveled dream-pop of Jesus and Mary Chain, and shoegaze heroes, My Bloody Valentine. Throughout the 45 minute course of this collection of 17 tracks, Harte hops from one genre to the other while keeping intact all proper lo-fi conventions. The end result is a charming piece of record brimming with foreboding jangles and sublime noise…it's perfect.
|mp3|
Shocking Pinks - This Aching Deal
|mp3|
Shocking Pinks - Emily
|mp3|
Shocking Pinks - Second Hand Girl