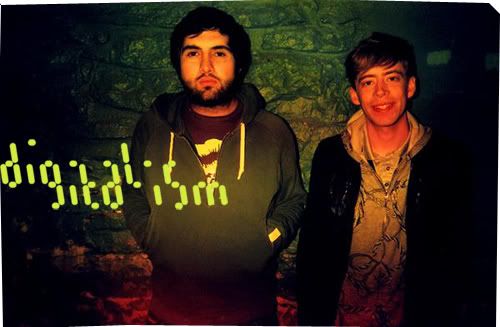 Following the electronic duo theme that's been going on around the blog lately, I thought it necessary to mention another electro two piece, this time hailing all the way from Germany and going by the name of Digitalism. I've yet to listen to their entire portfolio, but hearing to the perfect fusion of rock beats and electronic pulses in 'Pogo' have seriously gotten me hooked on the band. It's a brilliant mixture and cross between two varieties, making it one of the most infectious dance tracks to listen to this summer. I can't seem to get over the tune; packed with catchy, upbeat verses that interchange with hand-claps, its one tune that you can't stop listening to over and over again.
Accompanying the song is a
video
that seamlessly adapts itself to the tune; the levitating effect in the clip is easily attainable by jumping up and down continuously-- a neat idea, in case you're interested in trying it for your own.
|mp3|
Digitalism – Pogo