Much loved, much adored, British singer Kate Nash has got quite a number of covers under her belt, either that, or the tracks are just very easily accessible. Here are some that I've been keeping laying around the place.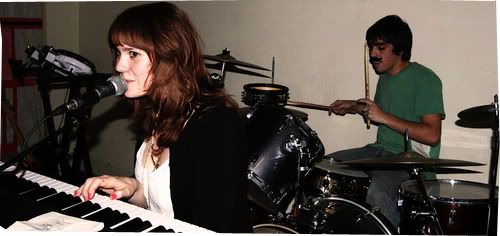 I love the gentle lilt and cockney accent she introduced to Arctic Monkey's 'Fluorescent Adolescent', replacing guitar parts with quick tempo keys, proving that a female can also pull off this track, and at the same time make it as if it were her own. Same goes with the Black Kids' tune; Nash softens the song's overall tone with her very honeyed, smooth vocals. An excellent cover that's almost as good, if not better than the original.
|mp3|
Kate Nash – Flourescent Adolescent
(Arctic Monkeys cover )
|mp3|
Kate Nash – I'm Not Gonna Teach Your Boyfriend How to Dance With You
(Black Kids cover)
Dear little sweet, little Kate Nash, although you're dating……whoever it is that you're dating from the Cribs, it doesn't necessarily mean that you have to do a cover of their song-- because this is just one of those weak remakes that doesn't do justice to the original.
|mp3|
Kate Nash – Men's Needs
(The Cribs cover)