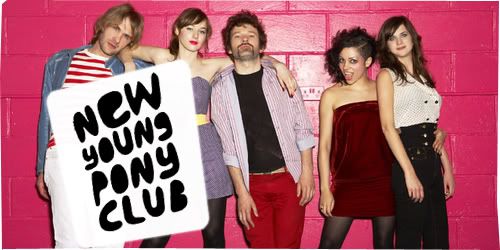 Adding to the list of bands that calls themselves from an imaginary club that may or may not exist, New Young Pony Club is yet another band that'll find themselves sub-consciously linked to bands such as Tokyo Police Club, and Bombay Bicycle Club. But unlike the two latter bands, New Young Pony Club, treads the dark, murky waters of the new rave genre-- or more like new disco.
The music of this London five piece comes wrapped in a package of electro pop with punk and funk nuances that's greatly inflected by danceable beats. NYPC exudes a style in both appearance and songs, revealing an assortment of glossy, sultry tunes to boot. The track "Ice Cream" (
Drink me like a liquor/Come on and dip your dipper
) may be their most favoured song to date and although one is always allowed to discriminate a song just because of its lyrics, but oh man, there's no denying that the song is extremely catchy in spite of it. However I do wonder for how long Tahita Bulmer can keep singing in that pervy manner during performances-- doesn't it get tiring for a while?
I do like the bliptronic brilliance of 'Grey' though, so listen to that one. Lyrics are less kinky and Bulmer's vocal that slightly meanders to Karen O's grounds at the beginning makes up for a pretty interesting listen.
|mp3|
New Young Pony Club - Ice Cream
|mp3|
New Young Pony Club - Grey
|mp3|
New Young Pony Club - The Bomb