Try as I might, I couldn't have put it any better myself:
Since Field Music's final tour of the US in March 07, David Brewis has been busily piecing together this first School of Language record, which can perhaps be seen as the first test of the above proposition. Primarily recorded by David alone and consciously susceptible to the cut-and-paste, multi-tasking tangents induced by laptop recording, these constructions are resolutely un-band-like, veering between the intricate and unplayable and the solitary and unadorned, their cohesion stemming from an embrace of all that is most obtuse and personal.



Sea From Shore

is bookended by the quartet of 'Rockist' tracks, a series of daydreams on words, their meanings and the decisions which follow from them, all underpinned by a collection of incessant looped voices.
School of Language is
Field Music
's David Brewis musical solo side project, and this track called 'Rockist Part 1', which is the first series of four Rockist tracks in his newly released album,
Sea from Shore
is assembled around a loop progression of what sounds like Brewis doing a vocal practice, of clearly enunciating a series of vowels. If the song starts off a little odd and may have caught you off guard, it soon assumes familiarity, as pleasant guitar strums steps into focus, unfolding alongside wistful vocal parts. It's an interesting, psychedelic take on simple, tightly wound pop songs; a definite "must-listen-to".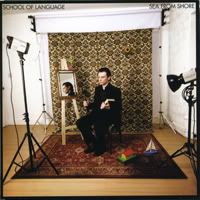 |mp3|
School of Language – Rockist Part 1