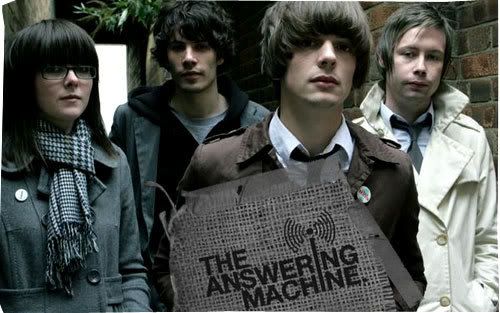 I have this very newly developed fondness for the Manchester band, the Answering Machine, despite of their awful name, that could easily be mistaken for the obvious, particularly when Googled on the net. The band is often associated as the Manchester Pop Perfection, owing to their jangley, rickety, booming pop rock tunes that's set to keep you moving on your feet.
In 'Silent Hotels', the Answering Machines brings to mind the anthemic opening riffs of
Los Campesinos!
in You! Me! Dancing!-- which had me questioning at first. But, further on into the song, the band managed to completely disengage their sound from being linked to the exuberant Cardiff collective, thus gradually transforming the music into their own. The vocals tremor through a lucid introduction, half-singing, half-exclaiming, both sounding half-heartedly done regardless. The interweaving guitar hooks forms a crisp, definite, and gritty sound that displays both an affable and an easygoing disposition, which I've always loved in any piece of song.
Though others warrant more on the B-side to the CD single of 'Silent Hotels', this track even so, does a fine work in introducing the band, Answering Machine and showcasing a first glimpse of what they have hidden up their sleeves, to the masses.

|mp3|
The Answering Machine - Silent Hotels
Watch the video to 'Silent Hotels here »