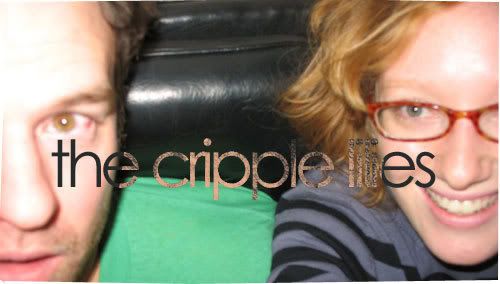 Isn't it sad, when you're just starting to get to know the band a little better, you learn that they've already disbanded? The Cripple Lilies are essentially a quintet, but two remains as the central writing force behind the music that is the Cripple Lilies. This track I'd like to point out is called 'Carnations'. I love a song that's whimsical and that's a little inconsistent sounding, which 'Carnations' rightly offers all in a single song. The piano keys opens up to a tone that sounds graceless and nonchalant, and that brings to mind an absent-minded and lumbering character that fills up the empty spaces conjured up by its whimsy melodies.
|mp3|
The Cripple Lilies - Carnations
Their 2007 release,
La Bete
sounds scrumptious, especially after reading this particular snippet of the band's bio from their webpage:
La Bete

is a different creature altogether, a siren's call, to be sure, but emerging gently, wistfully, as from deep in a well. This production favorslive room sounds, warm and close vocal performances and understated instrumentation that doesn't really hit home until the third or fourth listen. And that's not because you aren't paying attention - it's simply that the degrees of subtlety involved in the writing, arrangements and performances are such that it can't be absorbed all at once. It unfolds with each consecutive listen, and seldom puts a foot wrong.
You agree no? Such a shame though; the lilies broke up in September 2007.