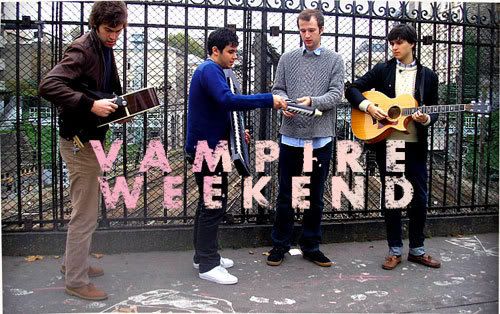 Today marks the day of the release to the often buzzed about, Vampire Weekend's first ever full-length debut. In fact, the band is too much hyped about that one could admit, that they've heard quite enough about them for about the next year. Funnily enough, I didn't discover the Brooklyn band through any other music blog sites or Stereogum, etc. Vampire Weekend was surprisingly, a discovery of my own; it was purely a matter of spotting a diamond among the roughs, and little did I know, that they would rise up to much attention.
Vampire Weekend's self-titled debut is by far the best record I've heard at this part and time of the year. Not one song in the album that I could point out as their weakest; each bears its own unique aesthetic value, and a wonderful catchy Afro-pop flair, that's incredibly easy to like. However, no matter how many times reviews keep mentioning Vampire Weekend and the Strokes in the same breath; I can't seem to get it past me. I believe that these two bands are nowhere near alike that they don't even live, let alone breathe in the same parallel universe, albeit the fact that they do indeed come from the same city. Their music sounds entirely different, that it's just wrong, a sin even, to compare them to each other.
The music of Vampire Weekend is not in the least bit gothic or hard-metal, as the name suggest, its more akin to a sunny breeze of African-induced-tones which are carefully injected into the tunes. It somewhat resembles an Afrobeat driven music that you'd hear coming straight out of Senegal or South Africa; with the old sound, "the shiny, staccato, reverb-free, African-style guitar lines", and the polished, piping tones of the keyboard, but only to discover later, that they were entirely constructed by four preppy, Ivy-league, Columbian graduates. The music sounds fresh, warm, vigorous, and at times bracing, and although it might sound exceedingly familiar, there's just something about the whole appeal to the songs, which makes it seem refreshingly different.
|mp3|
Vampire Weekend - Cape Cod Kwassa Kwassa
|mp3|
Vampire Weekend - M79
|mp3|
Vampire Weekend - Walcott
To listen to another previously featured Vampire Weekend's track, 'Oxford Comma', click here»