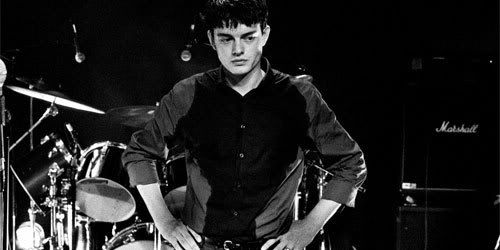 I spent some parts (which is kind of like most of it anyway) of my previous break, trying to get my hands on the Ian Curtis biopic film titled
'Control'
, and alas! I finally did.
Main character,
Sam Riley
who played the role of Ian Curtis, did in a way, probably at some angles and certain moment resemble Mr. Curtis himself, but you can't help but be deeply fixated on the character he plays throughout the entire film. I
read what Curtis' daughter
, Natalie had to say about the film, and although she may have her own personal issues pertaining to it, I'm drawn by the way she refers to her father, as 'the boy, who'll always be younger than me' - one can only imagine.
The best thing about making a film about the late
Ian Curtis
, or rather
Joy Division
, is that their beautiful music breathes life into each scene, the next inspired by the previous, leaving audience transfixed by some of those little moments and of the small gestures - the littlest things in the film which I always find, are the ones that I remember the most. The cinematography is breathtaking and I'm glad that this film has less unnecessary or redundant scenes, like most films such as this, tend to have. I only wished that the ending or otherwise known as the suicide incident of Ian Curtis would've had more impact, and wouldn't have just passed by without us noticing. The whole storyline was built towards that one prominent scene, one would presume, that the particular part would certainly be the most dramatic.
I'm being immensely generous today; I can't imagine how anyone can go on living through life without having a taste of this music. These are some which I've grown to love more and more by each consequent listen. Who knows how true
Anton Corbijn
stayed to the actual story, but who cares, the music's awesome.
|mp3|
Joy Division – She's Lost Control
|mp3|
Joy Division – Transmission
|mp3|
Joy Division – Insight
|mp3|
Joy Division – Leaders of Men
|mp3|
Joy Division – No Love Lost
These above songs are permanently stuck in my head, even when I'm in class in the middle of a lecture; I'm replaying the songs on an infinite loop in my head and now you know my deepest, darkest secret. Something about the vibe in the air right now, make the songs totally apt with the mood.
For a better picture and to show how much awesomeness you're missing out on, here's the trailer.