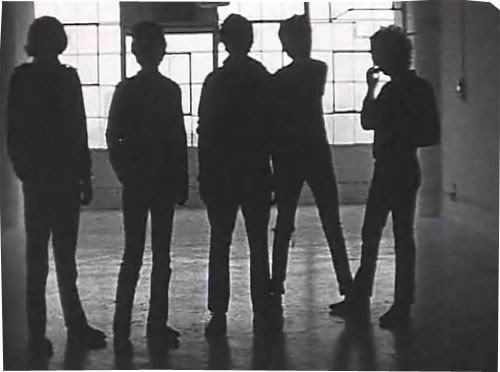 Something about the word 'film' and the Strokes, pronounced all in one sentence, just intrigues the hell out of me. This is something really fresh, out of the box, and I'm done resisting on whether or not to post this up. Photographer, Colin Lane shot an 18 minute short film of the band, while he was shooting them for
the Face
which
The Fader
just posted as part of their celebration of the mag's 50th issue.
And like what
Pitchfork
had previously stated, don't bother turning up the sound - it's a silent film, originally inspired by
Andy Warhol
's series of screen tests films, of his shots of people whom are both famous and not. The film is a nearly 20 minute of tight shots, faces shots of the band and nothing else, without any sound. Somehow, I couldn't really, entirely, completely sit through it, and that goes to show - the Strokes without any sound (or music) just seems
blah
. Here's a couple of things that's got
Pitchfork
contemplating and consequently, has got me contemplating as well:
A few questions come to mind here. Warhol did it-- does that make this interesting? How much do you have to like the Strokes to sit through this entire thing? Will it play in a gallery? Does he really need shades? Is the future that bright? Does smoking in front of a camera make you look cool? Is this it?
But, then again, I'm all for more of the band's video footage, that means more resources for me. Someone really needs to make a film of these guys (just for the sake of it), a real proper one, I'm hoping, maybe - me?
To watch video, click
here
.