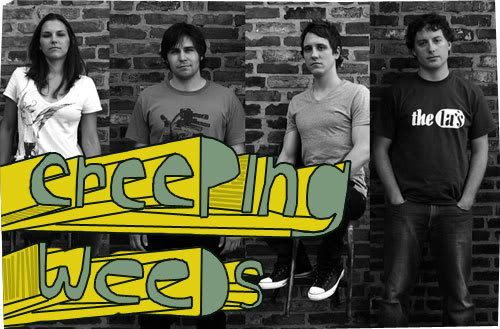 Here's a band that's been under the radar and not getting as much coverage (as they should). Creeping Weeds is a four piece, sometimes five, indie band that's based in Philadelphia. A couple of resemblances are noticeable in their music to
Modest Mouse
, in their stuttery rhythms, as well as to
Pavement
, in the loose sounds of their guitar works.
Peter from
Bars and Guitars
says, "Creeping Weeds' CD
We Are All Part of a Dream You Are Having
actually shows a degree of professionalism and dedication to craft; that many bands with rehearsal spaces can only dream of", and I couldn't agree more. They're a new band that's set to embark on a journey with good, solid structured songs to boot, which if I may add, not many new bands can pull off really well.
'Eternity Is a Long Time' is the song that has got me wired to the band, like literally
wired
to the band. Catchy, rhythmic clatters and stumbling guitar hooks, that infiltrates the tune proves just how much this band is deserving of your attention or even – heck you, I'm saying it anyway – your love.
|mp3|
Creeping Weeds - Eternity Is a Long Time