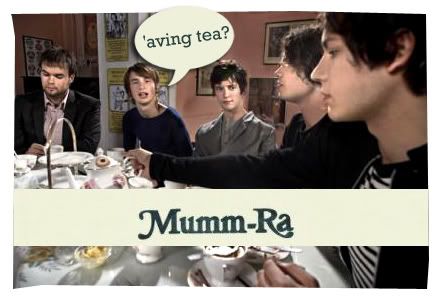 If you were once an avid fan of the popular 80's animated cartoon, Thundercats, you would probably be familiar with the name Mumm-Ra who in fact happened to be the villain in that particular cartoon series. However, this has nothing to do with said villain character, the Mumm-Ra I'm referring to are an English Indie rock band with modest ambitions and want nothing else out of life but to be like no other band on the face of the planet.
I gave a listen to Mumm-Ra's 'These Things Move in Threes', and I was hooked. I was determined to know more about them, and I found out that they're originally from a small town called 'Bexhill on Sea' situated in Sussex, England. Before they initially started, they were known to their schoolmates as The Spods Least Likely To Ever Be Cool, Let Alone Form A Kick-Ass Rock Band. But years later, they now have a debut album which is to be released this 28th of May while also being featured in NME as one of the ten bands that were guaranteed to soundtrack 2007.
'These Things Move In Threes' is catchy guitar music with some slight rock ricochets while 'She's Got You High' defines itself as more of a pop song. I like them both, and the fact that the band is still very new and has yet to release a full album makes it more appealing. My sister and I are both charmed by Mumm-Ra's oh-so- British accent and customs and found it ridiculously endearing. For instance, each time they'd start a gig, they'd throw in a riddle like:
"What does Alexander the Great and Winnie the Pooh have in common?"
Oh, and did I mention they have a toy duck as the band's mascot; "Matthew", who lead singer Noo often uses as a prop in live events. But, who knows for how long they will retain their ''aving tea?' custom, what with all the rock music and touring and everything.
Nonetheless, as they would say, "Modest ambitions, monumental potential. Let's keep 2007 Mumm." Mumms-it away!
|
mp3
| Mumm-Ra – These Things Move In Threes (right-click, save as - to save)
|
mp3
| Mumm-Ra – She's Got You High
:: Mumm-Ra ::
Official website
|
MySpace
|
Buy