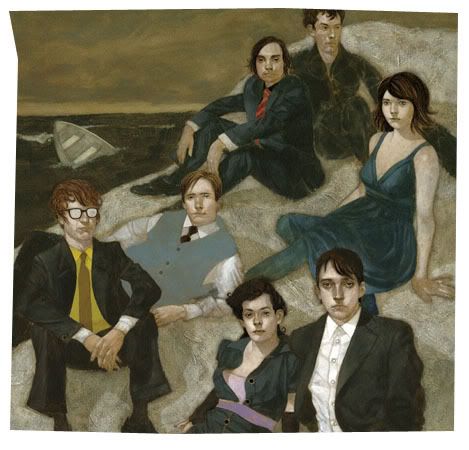 So, there's a pattern going on. Every time I post - well, almost every time I post, I put up songs as well. It's the only thing that keeps me going. There's just something interesting of talking about music (this way) - that not many people would understand or appreciate - that I feel there's always something to tell. Some people, I understand barely give a gobshite what I'm writing. Some merely come because of the pictures and others because of the music. Either way, it's cool with me and yes, if you might not have noticed the mp3s are downloadable. (Surprise, surprise…)
These here are songs that I've loved in the first place, but no matter how many times I listen to it, I'm always reminded of people; people I'd like to call friends. We all have those songs and how music is able to affect us in such a way, will always remain a mystery. Memories are kept deep down inside and we all need help once in awhile to dig out those memories - and music may just be one of them.
There's this song that I've only ever heard on MTV that has a nice tune at the beginning with beautiful lyrics that slowly seeps in. It would surprise me now, that the song really belongs to 'No doubt' and Gwen Stefani was actually capable of writing human-friendly songs. It was love at first listen and I wasn't the only person who loved it, even my friend,
Azreen
went far enough by saying, "That song represents me, my soul. If you really want to know my soul, you should listen to the song." What she said, gave such an impact that there is not a time when I listen to it, that I am not reminded of her.
|mp3|
No Doubt – Running
There are a lot of music that I could list down that would remind of
Mars
ever so slightly. But, this song will always be
that
song that I can't relate to anything else. I remembered Mars first discovered the tune and then all of a sudden everyone started liking it too, and then the song seems to have just lost its appeal. Whenever I listen to it, it would always remind me of the whole 'during-matrics-experience' thing.
Remember those days, Marissa? Those were good old days, weren't they?
Of course they were, for reasons that need not be enclosed here.
If you know what I mean…
|mp3|
My Chemical Romance – Ghost of You
She was constantly singing the song during Ta'aruf Week. So constantly that - that song that I've never even heard the actual artist version of - was stuck in my head. That's
Ann
, in a nutshell. If she's listening to a song (on her iPod), she'd sing it loud, so that the whole world could sing along with her. And now, I seem to grow a fondness for Eisley - great band, good music. So, next time Ann is singing, sing along with her, you might actually start to like the song.
|mp3|
Eisley – Marvellous Things
This song is the only one that wasn't in my already vast music collection and that I had to get. So it was definitely 'being reminded of' first, and 'actually enjoying the song' second. I wouldn't say that this music is the song that would truly represent
Amy
, because I believe there are various other tunes that are more qualified to be a candidate. But, just listening to the starting of the song, I just can't help myself from smiling a little or other times, laugh a little.
Cheer up Amy, we all know you're a wonderful singer.
|mp3|
Lupe Fiasco – Daydream
*to all of my other friends, your names weren't enclosed for reasons such as to avoid this post to be elaborately long-ish but it doesn't mean that you guys are not mentioned, that I don't remember of you all the most.
**Picture of Arcade Fire by Edward Kinsella. Go to his
site
.