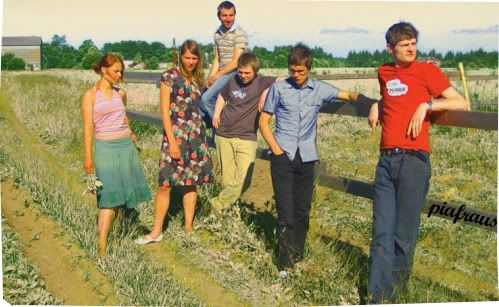 First of, I'd like to make a shout out and send a huge thanks to Ingrid from Estonia for giving me the head's up on this brilliant shoegaze band, Pia Fraus. Your recommendation is much appreciated, hoping to hear more.
Pia Fraus opts for the typical shoegaze sound templates and integrates them into their music. Multi-layered guitars, massive reverb, swirling synths, fuzzy distortions, and hazy, distant vocals, all works itself into gorgeous, incomprehensible, lo-fi splendor. A brief venture into their earlier works, Pia Fraus almost sounds like the perfect substitute to satiate my appetite of all shoegaze pleasures subjugated by My Bloody Valentine. But in their 2008 release,
After Summer
, the band seems to have gone more dream-pop, as they move into more ambient regions of shoegaze. Particularly noticeable when compared to their previous works which boasts a raiding legion of guitars that creates scrumptious, ear-splitting noise. Of course, I might be wrong, distinctly in some slightly earlier tunes which have gone on to display similar attributes. But having said that,
After Summer
, is still a stunning piece of record as any. One of the album highlights, 'Dr Optimism' shows the band's ability in controlling noise and clamor in order to create beautiful textures and melodies, topped on with dreamy, delicate two part harmonies. The band is indeed one of the best discoveries all throughout this year, I'm hooked for sure.
From 2004's
Mooie Island
EP:
|mp3|
Pia Fraus - You Look Fine
From 2006's
Nature Heart Software
:
|mp3|
Pia Fraus - Japanese Heart Software
And from 2008's
After Summer
:
|mp3|
Pia Fraus - Dr Optimism
|mp3|
Pia Fraus - Springsister