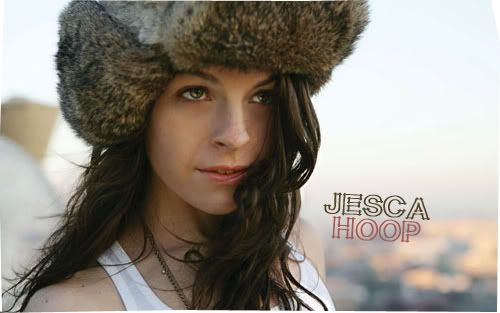 I've managed to dig out some interesting music acts from my, well modest collection that I've forgot to mention throughout the writing of this blog. It only seems fair that I bring them forth now rather than putting it off as much as time will allow me.
Jesca Hoop certainly stands out amongst the throng of female singer/songwriter that continues to proliferate by the hour. With songs that sound unlike any other you've heard and vocal delivery that's uniquely her own, it's fair to say that she hardly seems to be fighting for any attention. Her 2007 debut record,
Kismet
, is strewn with 'carnivalesque flourishes' and unconventional folk-pop contours. It's the off-kilter arrangement and sudden vocal shifts that'll have your interest firmly entrenched throughout the musical passage of her songs. Take for example, the incredibly catchy, 'Intelligentactile 101', a sort of whimsical, celestial tale of an infant's journey towards its birth, with atypical terms like 'bones and marrow', and 'umbilical chord', lyrically incorporated. The song almost feels as if it revolves around the vocals and the vocals alone; even without the music the song remains comprehensible.
There's a song called 'Money' that could as well be a Gwen Stefani song and the thick harmony drenched 'Summertime' that sounds like the sisterhood sisterpants soundtrack-- if you know what I mean. That said, Hoop's album
Kismet
have won her accolades of high praises and hidden within its recesses are even more wondrous surprises that a single mind could fathom. Maybe its best I leave the music do the talking. Here are some for starters:
|mp3|
Jesca Hoop - Intelligentactile 101
|mp3|
Jesca Hoop - Summertime