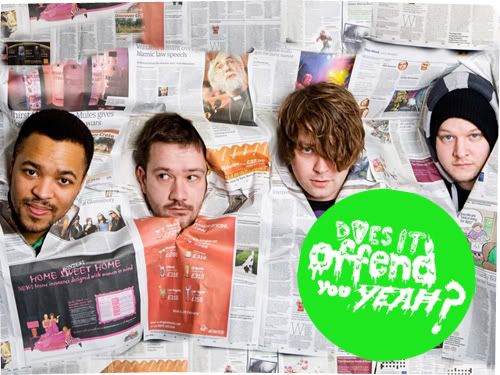 How do I it? How do I shift my music attention from sweet, syrupy, jangly pop to chunky, industrial, electro blocks, like this one? What could possibly be the common thread between the two?
Honestly……, I don't know.
The two genres stand at the most far-edge of opposing territories, and although my heart lies more within pretty, pretty pop songs and all its derivatives, try as I might, I can't deny that I am hooked on the quick, rapid sonic displays and vivid urgencies that's present in electronic music. Reading-London band, Does It Offend You, Yeah?, is one of the many electronic ensembles that I've been eyeing on as of late, having been compared to some household names of the equivalent genre, including Justice, Daft Punk, and Digitalism. 'We are Rockstars' is that electro-dance piece that you'll hear countless times in the backdrop of music award events, MTV produced shows, and on various TV adverts all across the globe. The song bears equal portions of rock and electro, in fact you can hear combination of both elements all throughout their debut record,
You Have No Idea What You're Getting Yourself Into
. Apart from having a band name that makes you want to say, 'I'll just have to deal with it, yeah?', this is certainly one raucous music collective to not be excluded from your ever expanding list of 'electronic bands that's sure to blow your socks off'.
|mp3|
Does It Offend You, Yeah? - We Are Rockstars