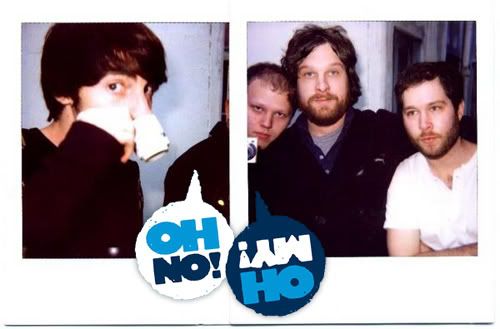 Not to be confused with previously posted, French based duo,
Hey, Hey, My, My
, Oh No! Oh My! is an Indie rock, or rather Indie pop foursome all the way from Austin, Texas, whose name was inspired from a song by the band, The Robot Ate Me. Oh No! Oh My! are quite possibly, one of the most unpretentious bands I've come across so far, so that's one reason to love them. But also love them because of the buoyant, sparkly rhythms they carve out, reminiscent of Belle and Sebastian, that swells and progresses into beautiful pop choruses. A diverse array of instruments are employed throughout the band's portfolio, varying from glimmering electronics to affable sounds of the banjo, while suitably layered with amusingly, adoringly quirky lyrics, making the music of this pop quartet never in danger into veering from endearingly sweet to simply cloying.
Oh No! Oh My! expertly creates pop masterpieces, after pop masterpieces, that will slowly but surely, wriggle its way into your heart and reside there for quite a long time-- undoubtedly, a band to keep an eye for.
|mp3|
Oh No! Oh My! - Walk In the Park
|mp3|
Oh No! Oh My! - I Have No Sister
Here's also another track taken off their 2007 EP,
Between The Devil And The Sea
, though the band is said to be currently in the works of releasing another newer EP this summer with a full-length to follow shortly after.
|mp3|
Oh No! Oh My! - The Party Punch
To finish off, here's a B-side from the band:
|mp3|
Oh No! Oh My! - I am Not a Monster