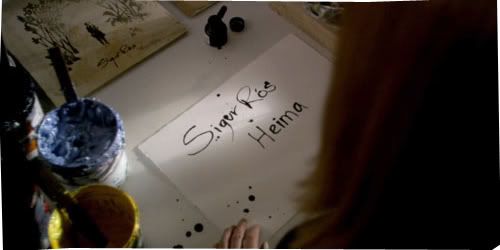 It's impossible to think that the members of Sigur Rós were expecting, even in their wildest dreams, the sort of acclaim and worldwide recognition that greeted them when they made Ágætis byrjun their first release to see shores beyond those of Iceland. Critics fawned, audiences gasped, and people actually bought the thing, despite the fact that not a word of it was in English.
Sigur Ros is that band that we secretly love, where the fixation towards their music isn't meant to be shouted out loud. Either because we're embarrassed to admit it or we just don't feel the need to. It's easy to evoke ideas and draw inspirations from music like Sigur Ros'. I only own a handful of their tunes and even that's enough, because one Sigur Ros song normally stretches beyond the usual four minute mark.
A couple of weeks back, the band uploaded their whole film, which is their first ever venture into film/documentary dominion, entitled
Heima
which stands for 'At Home' in Icelandic. The film gently envelopes the attributes and beauty of their music in the impressive landscapes of their native land, and the subtle expressions of its people. Watching
Heima
will make you overwhelmed by its hushed vibe, that it'll lull you even to your deepest slumber.
The sumptuous and majestic tone of their music quietly engages with listeners, making it a perfect fit to underscore any film. I find that it's able to give even the most ordinary, unappealing, uninspiring looking scene the jolt of life that it rightfully deserves. I've been contemplating on using it myself, if I ever come around to making one. Here's an excellent track that's been used in Cameron Crowe's 2001 film,
Vanilla Sky
.
|mp3|
Sigur Ros - Svefn-g-englar