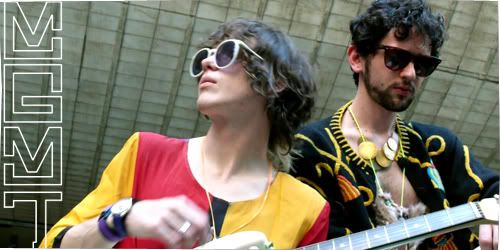 I like music that spins its tales and words around stories about music-- because you're able to take a step back, and mull over how the music you've been listening to all this while has taken effect on your life and eaten in into a part of your views and perceptions; all while listening to music. MGMT's 'Time to Pretend' perfectly reflects that idea, containing lines like:
Lets make some music, make some money, find some models for wives/I'll go to Paris take some heroin and fuck with the stars
. Hate to admit it, but that mockery on excessive rock star lifestyles is pretty darn, irritatingly, spot on.
Merging sounds that are saturated with noise rock and electronic detonations, there probably couldn't be a more fitting way to describe their sense of musical style than to describe it as what David Marchese of Spin magazine calls it "their current brand of shape-shifting psychedelic pop". MGMT, also pronounced as "Management" is a duo that's based out of Brooklyn, New York, signed to the major label, Columbia Records.
'Time to Pretend' feels like torrents of "multi-dimensional, vibrating Technicolor" and "dazzling, colourful textures", that maneuvers its way through keyboard melodies, inspired by jerky movements of the duo's pet praying mantis (??). The track isn't your usual kind of music, bringing forth unconventional sound structures while heighten by an introspective tone through out. MGMT heavily coats their words with irony, but the band seems more embracing of the ideal rather than conflicting to it. The lyrics though, keep throwing accurate punches, and start to hit below the belt when these few lines start to kick in:
The models will have children, we'll get a divorce / We'll find some more models, everything must run its course / We'll choke on our vomit and that will be the end
. But as soon as the last line, reflecting the title, comes into view, a sense of realization hits, sounding final and conclusive as ever.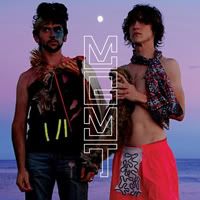 |mp3|
MGMT - Time to Pretend
I recommend watching the outlandish video and you will grow to the love the song, because only then will you understand how the song is intended to be displayed -- or not. Watch it here»